With Premium Kiln Dried Firewood
When you start a fire, you spark a conversation with nature, you start a meal, you start an evening with friends, you spark a new memory.
Since the dawn of time, since our ancestors started the very first fire, time spent around a fire is time well spent. It's time for stories, laughter, and life lessons while the wood burns down.
Today it's time for cooking, music, and first s'mores. A fire is more than just a fire—it's a beacon of welcome, a lighthouse on land. Everyone has a seat at the fireplace, campfire, or fire-pit.
Guaranteed To Burn
Our firewood has low moisture content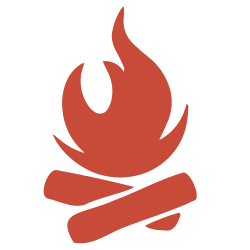 Clean Firewood
No insects. No bugs. No mold.

Kiln Dried Firewood
Always consists of 100% hardwoods

Energy Efficient Firewood
Up to 35 % more heat
Premium Kiln Dried Fire Wood
Highest Quality & Affordable
We believe that every time you light a Premier fire, you Spark Something Good ™. We're proud of the superior kiln-dried firewood and cooking woods we ship directly to customers or hand-deliver and stack throughout the New York and Connecticut area.
For years we've been the trusted source of the best firewood and cooking woods in Connecticut and New York. Order your firewood today.
See What Our Customers Are Saying
My 4th cord of wood in two seasons. Delivered and stacked. The wood is nice and dry, which makes it easier to pick up and bring in several logs at one time. The wood burns beautifully and Steve and his hard working team rate 5 stars.
Karin H.
Norwalk, Connecticut
Just wanted to drop you a line to thank you for your fine service, fair prices, and great kiln dried firewood product. Your wood has kept our fires burning hot & clean for quite a few years now. Great service, great product, & fair price. What more could we ask for? Again, many thanks & we look forward to the above for many years to come.
Brian N.
Rye Brook, New York
I have been using Premier Firewood for the past three years. I could not be happier with their service and product and go through at least 2 cords of wood a year. It is the BEST wood I have ever ordered and used! Steve and his crew are awesome and get you the best wood all the time. I've never been disappointed with the wood or the service and would highly recommend them to anyone I know!
Jeff S.
New Canaan, Connecticut
As I sit here, staring into a gorgeous fire in my wood-burning oven, I am just so grateful for the Premier Firewood Company™. What a great find!! As a food professional (cookbook author, culinary educator and media host), it's so amazing to be able to cook with such incredible wood, without owning a restaurant! The wood catches quickly, burns cleanly and smells fabulous. And, just as important, everyone connected to this company, from the owners to those that deliver and unpack my wood, is a pleasure to work with. I am thrilled to have this company as a reliable resource to replenish my wood supply and its my joy to recommend them!!
www.laurengroveman.com
Lauren Groveman, CCP
Weston, Connecticut